EE announces £200 Eagle, Android 4G tablet to take on Apple iPad Mini
EE has announced the Eagle, a 4G Android 4.2 Jelly Bean tablet that costs £199, with the company saying it intends to take on the iPad Mini.
The Eagle has an 8in screen, 1.6Ghz Cortex-A9 quad-core processor, 1GB of memory and two cameras - a 5MP camera on the back and 1MP camera on the front.
There is also 16GB of internal storage that is expandable by 32GB using micro-SD. The Eagle 4G tablet runs Android 4.2 Jelly Beans and will launch in the UK on 28 May.
EE chief marketing officer Pippa Dunn said the tablet was designed to compete directly with the iPad Mini but the technical specifications don't back this claim up.
The Eagle's 8in screen has a resolution of just 1280 by 800 with 188 pixels per inch (PPI). By comparison the iPad Mini has a resolution of 2040 by 1536 with 326 PPI. EE's tablet weighs 329g and measures 7.9mm thick.
It will be available only from EE and cost £199.99 on pay as you go or £49.99 on a £15 per month 2GB data plan. Another 10GB per month EE Extra plan will also be available for the Eagle.
The Eagle is made by Huawei and bears a striking resemblance to the company's MediaPad M1 , albeit with slightly different specifications. EE said it had "worked hard" to customise Huawei's tablet for its customers.
EE also announced three new 4G Wi-Fi hotspots, designed for cars, kids and professionals. The Buzzard is "ideal for the school run" and plugs into a car cigarette lighter or powered USB port, turning the vehicle into a 4G hotspot.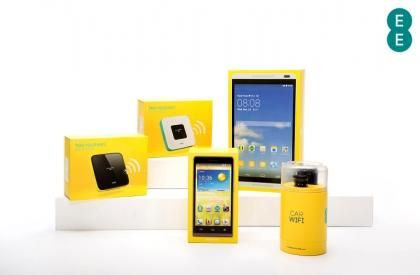 The company emphasised that it is designed for passengers, not drivers. Up to 10 devices can connect to the Buzzard at once. The dongle comes in a large yellow canister designed to fit into a car cup holder for easy storage.
The Kite is a slim, black and silver pocket-sized 4G hotspot for professionals, while the Osprey is a more "durable" hotspot designed for "younger, more mobile users".
All three devices are available on a range of plans, both one month and 24 month, with prices starting at £10 per month plus upfront costs of between £19 and £29.
The Buzzard and Osprey launch on 28 May and cost £49.99 on pay as you go, while the Kite launches on 28 July and costs £69.99. All are free on 24 month plans, with the most expensive contract costing £50 per month for 50GB of 4G data.