JCB Toughphone Pro-Smart TP909 review
JCB's Toughphone range is designed to withstand all kinds of abuse, whether you're on a building site or a kayaking trip. The Pro-Smart is an Android smartphone with a hardened shell, which conforms to the IP67 ingress standard. This means it is totally protected against dust, and can handle immersion in water up to one metre deep.
It's definitely a chunky phone, but it's more compact and has a more cohesive design than just fitting a waterproof case to your smartphone. The outside is encased in tough rubber and plastic, and we've no doubt it could survive most falls on the corners or back. There's more protection against face-down impacts than you get on most smartphones, with a couple of millimetres of rubber to stop the screen hitting a flat surface, such as the pavement.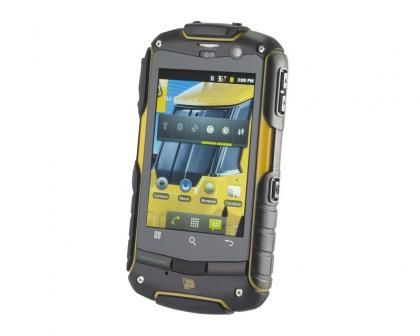 You screw the battery cover shut after fitting your SIM, and we had no complaints about the phone's water-resistance. We left it immersed in a bowl of water for 20 minutes, and the phone could still be taken out of the water and answered without a hitch. This is helped by the fact that it has dedicated call answer and end keys so you don't have to use the touchscreen; responsiveness takes a dive when the display is soaking wet.
There are a couple of physical features that we thought counted against the phone's outdoor aspirations. We didn't think the screen was bright enough for outdoor use - even at maximum brightness we could barely see it on a sunny day. Also, the phone's tough casing seems to cut out much of the phone's ringing volume and vibration, so we had trouble noticing alerts in noisy situations. The 5-megapixel camera is a disaster. Its over-exposed, blurry daylight images reminded us of phone pics from five years ago, and indoor pictures were hopeless. The battery is a definite saving grace; over ten hours in our video playback test points to all-day battery life.

The phone's chief selling point may be its ruggedness, but under all the protective rubber and plastic is a proper Android smartphone. It's far from cutting-edge, though. You get Android 2.3 rather than 4, an 800MHz single-core processor and a relatively low-resolution 480x320 screen. Android runs reasonably well, but the phone's lack of power shows when browsing the web; it takes almost 13 seconds to render the BBC News homepage, compared to the four or five we're used to seeing from modern dual-core smartphones. Some applications also take a while to open. We noticed a bug, where the phone would sometimes refuse to send replies to texts, just leaving the Send button greyed out.