EE announces two-tier 4G contracts with 4GEE Extra
EE has announced a shake-up of its 4G contract plans, introducing a two-tier structure that will split its fastest 150mbps speeds and biggest data caps into a premium service known as 4GEE Extra.
The entry-level 4G plan will now start from £18.99 a month, reaching up to £44.99 depending on your choice of handset. 1000 UK minutes, unlimited UK texts and 500MB of data is included, but speeds will be limited to a theoretical 30Mbps with an average of 12-15Mbps likely based on location.
Moving up to a £23.99 bundle will give customers 2GB of data per month, along with unlimited calls as well as texts. A £29.99 contract will also be available with 5GB of data.
View the latest offers from EE
The new 4GEE Extra plans all qualify for the fastest 60Mbps 4G speeds and include unlimited UK minutes and texts. Prices will start from £26.99 for 4GB of monthly data allowance, jumping to £32.99 for 10GB, £37.99 for 20GB or a whopping £74.99 for 50GB. These prices increase depending on which bundled handset you choose.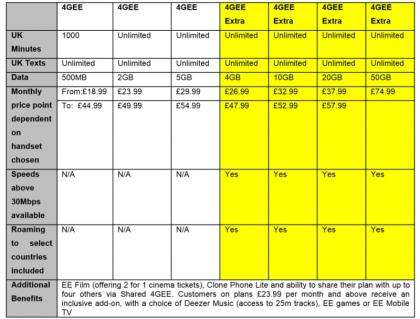 All 4GEE Extra contracts include EE Film 2-for-1 cinema tickets, Clone Phone backup and the ability to share your plan with up to four others through Shared 4GEE. Customers will also get the choice of either Deezer music, EE games or EE Mobile TV.
A final added incentive, which is a time-limited promotion that will only last until the end of January, is free roaming in selected countries. If you take your phone to the USA, Australia or a number of participating European countries, you won't be charged any extra for using minutes, texts or data within your monthly allowance.
The existing SIM-only contracts remain unchanged, so if you want to take advantage of the roaming deal you'll have to take out a plan with a handset.
Although we're a little worried that splitting 4G into two tiers will be confusing for customers, it's great to see EE introducing less expensive contracts - especially in the light of increased competition from the likes of Vodafone and O2 .
EE's new contract prices are due to go live in-store, over the phone and on the EE website on the 30th of October.