CHEAP: AirPods for $145? HOOK THEM UP TO MY VEINS
Welcome to CHEAP, our series about things that are good, but most of all, cheap. CHEAP!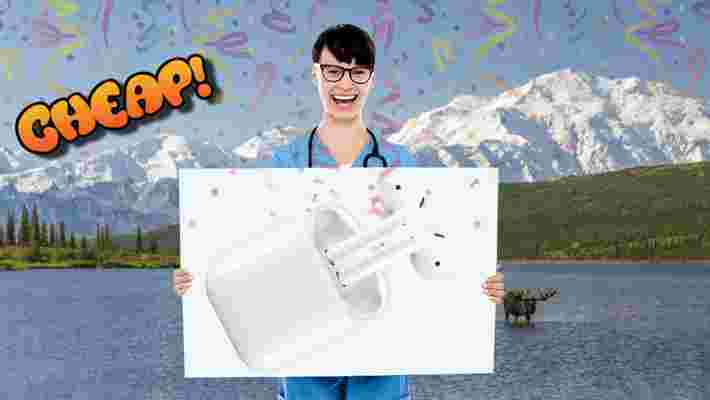 What? Huh? You don't have a pair of true wireless earbuds? And… what's that? You own an iPhone too? Damn.
Well, you're in luck, because the latest AirPods are currently on offer . Indeed, rather than paying $160 — like they are on Apple's own site — you can now get them for a more reasonable $145.
Generally, Apple doesn't reduce even its old products by much, so if you've been on a hunt for a pair of the newest AirPods, this is a pretty good deal.
Features time, folks! We wrote about the new generation of the AirPods here , but the biggest improvement over the old models is down to a new chip Apple put in the earbuds. Specifically, the H1.
This has given the newest AirPods a faster and more secure connection, longer battery life, and improved call functionality — when compared to the previous model.
Of course, Apple's AirPods have their fair number of detractors, and we've gone through the positives and negatives of the hardware here (in a cute angel and devil format).
In my opinion? I think they're a surprisingly good-sounding, well-designed pair of headphones that work perfectly within the Apple ecosystem. Everything about them feels premium, like a proper Apple product.
One thing, if you think you have odd-shaped ears, maybe try out a pair before you buy. As there are no grips or attachments included, the AirPods can slip out of your hearing holes. Most people I know don't have this issue, but you never know.
Anyway, you can pick up a pair of the latest Apple AirPods for only $145 here . If you've been pondering whether to get yourself some, now's the time to strike .
This post includes affiliate links to products that you can buy online. If you purchase them through our links, we get a small cut of the revenue.