TNW's School Supplies: Tasty tech to blow your student loan on
It feels like an age ago, but I remember my first week at university. For the first time in my life, I was living independently of my parents, and the first tranche of my student loan had infused my bank account. I was rich, able to afford all the Fosters and Turkish pizzas my 18-year-old heart desired.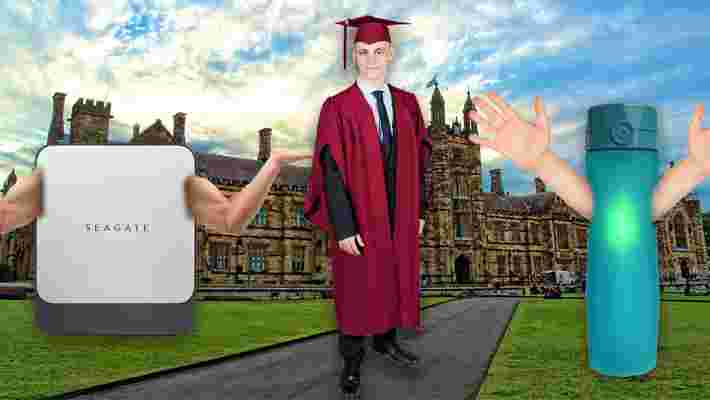 And being a geek, I spunked a fair bit of cash on some new tech, adding a new laptop and phone to my repertoire of gadgets, forcing me to spend the rest of the semester subsiding off a diet of Tesco Value hamburgers and instant noodles. Oh yes, dear reader, I remember it well.
This is TNW. We don't merely applaud bad decisions. We actively aid and abet them. We're the voice in the back of your head urging you to " do it for the 'gram ," consequences (and morality) be damned.
Quite helpfully, that brings us to this gift guide. As a team, we thought long and hard about the quirky and cool tech products we'd buy if we were back at university, living off an interest-free overdraft. With that in mind, read on to find out what you should be spending your rent money on instead.
Seagate FastSSD
There's a moment in every student's life when they realize that shit has well and truly hit the fan: They've lost a piece of coursework, and the deadline is looming.
Online backups are great (and essential), but it's always nice to have a local backup, especially if your degree is in film or design and you're working with large files. You need an external hard drive.
The external hard drive market is crowded, and some offerings are better than others. We had a look at the field, and the Seagate FastSSD immediately caught our attention.
Unlike traditional external hard-drives, the Seagate FastSSD uses Solid State Drive (SSD) technology, which comes with a few bonuses. Firstly, there are no moving parts, meaning that it's less prone to breaking when dropped. Read and write speeds are faster. It runs quieter than traditional external HDDs. It's less of a drain on your laptop's battery.
The Seagate FastSSD also comes with a USB-C cable included, which is handy considering the old-school USB-A cables are slowly on their way out.
At the time of writing, you can pick up the 500GB variant for roughly $125 on Amazon US . This variant isn't currently available on Amazon UK (but you can pre-order it ), although you can buy the 250GB version for under £90 .
Yeah, these are expensive by the standards of hard drives, I'm not going to bullshit you, but you get what you pay for. Given you're spending thousands on a degree, you might as well invest a bit of cash in making sure your time and effort aren't wasted.
HP Sprocket
Ever noticed that it's really bloody hard to get real printed photos nowadays? The high-street photo store of your childhood is long gone. Replacing them are automated kiosks, which are clunky and offer reproductions of questionable quality.
Sure, you can get a Polaroid-style Instax instant camera, but they're expensive, clunky, and don't produce anything nearly as sharp as what you get with your phone.
The HP Sprocket is a happy medium. It's small, and can easily fit in a handbag or rucksack. It connects to your phone over Bluetooth and, there and then, lets you print pictures from your phone.
The HP Sprocket lets you customize photos with emoji and unique borders, and the paper itself is sticky-backed, allowing you to attach your club snaps to the back of your door, or your bathroom mirror.
The downside is that the printer itself isn't cheap, retailing on Amazon for just shy of £120 . As an added kick in the knackers, the paper is so expensive you'll inevitably end up begging your bank for an extension to your overdraft. That said, can you put a price on permanently memorializing the nights you'd otherwise forget? I didn't think so.
Quip
Okay, look, oral hygiene isn't the coolest thing in the world, but I've been to university. I know that overall cleanliness goes out of the window the moment you step out of your parents' home and into your student gaff. Guess who changed his bedsheets a total of twice during his second year of uni? This guy.
But like, your teeth are different. You've got to look after them because they'll still be with you long after you've scraped a 2:2 by the skin of your… well? Teeth.
One interesting player in this space is Quip , which is the Dollar Shave Club of oral hygiene.
For $25, you can get a starter pack that includes an electric toothbrush, toothpaste, and a replacement head. The brush itself is pretty interesting and combines the familiar form-factor of a manual toothbrush with the plaque-busting vibrations of a more powerful electric toothbrush.
As a bonus, you can subscribe to regular deliveries of replacement heads and toothpaste, ensuring that keeping your pearly whites clean is as convenient as possible. Quip ships worldwide, although shipping costs will vary.
Toothpaste by subscription, eh? It's not a terrible idea. Let's face it: As a student, you're a natural procrastinator. I know I was.
BenQ ScreenBar
On the subject of procrastination, let's talk about all-nighters. God knows I did my fair share. It didn't matter if I had entire weeks to write a paper, the lion's share of the work was always done in the hours immediately before the submission deadline.
If you're starting to think I wasn't an especially diligent student, you're spot on.
Anyway, all-nighters aren't especially good for you. Staring at a laptop screen in a darkened room can be damaging to your eyes, and the blue light from your computer's monitor can disrupt the sleep that you (eventually) will get. One attractive solution is the BenQ Screenbar, which I've been using for the past few months.
The BenQ ScreenBar is a lamp that clips to the top of your monitor. It takes up hardly any space at all, and is powered via a spare USB port on your computer.
Unlike other desk lamps, the ScreenBar casts light down your monitor. Although the ScreenBar's array of LEDs are lusciously vibrant, it doesn't shine light directly in your face, which can feel harsh.
It's also customizable, allowing you to control the temperature and brightness of the light with the press of a button.
The BenQ ScreenBar is available on Amazonom and retails for under $100 . It's not cheap, sure, but I've found it to be invaluable when burning the midnight oil. And let's face it, if you're doing a four-year degree, it works out to $25 a year.
Tile
How many lectures did I miss because I misplaced my phone or wallet, and couldn't leave my student halls without them? More than I'd care to admit. I only wish Tile existed when I was a student. It would have saved me several headaches.
So, what's Tile? It's a tiny square of plastic you connect to your keyring, wallet, or other valuables. When you can't find them, you can "ring" them from your phone.
This principle goes both ways; when you can't see your phone, you can buzz it from whatever you've connected to your tile.
Tiles are cheap; you can pick a set of four up from Amazonom for under $50 . In the UK, the same retails for under £40 .
Editors Keys
Alright, so let's talk about something that'll help you perform better at university. No, I'm not talking about Ritalin.
Editors Keys are handy membranes you can place over your computer keyboard, showing you shortcuts for specific applications. These cover a variety of disciplines, from software development to video production.
You can, for example, get a keyboard cover that will offer a quick reference to the VIM text editor . There are also covers for music and video production applications like Ableton, iMovie, and Final Cut Pro X. And as a bonus, they act as a protective barrier between your computer and the outside world, stopping dust and liquids from getting into your machine.
There are a wealth of keyboards on offer, each retailing for £28 (or roughly $37). You can check them out here .
Wacom Intuos
If your degree is about design or art, a decent graphics tablet is a must. You could do worse than considering the Wacom Intuos.
The Intuos is a genuinely gorgeous bit of kit. It's stylish and understated, and won't look out of place on your desk. Setup is obscenely easy, and the stylus included is every bit as responsive as you'd hope.
And hell, even if you're not a designer per se, they're a purchase worth considering. I know people who use graphics tablets in lieu of traditional mouses, as they feel a pen input is a lot more natural and intuitive than scraping a bit of plastic across a desk.
The Intuos line is packed with several different offerings, each measurably different in some way. The good news is that the entry level model is super cheap, costing just $70 on Amazon US , and £70 on Amazon UK .
Wyze Cam
In my second year of university, someone sharing my grotty nine-bedroom flat helped themselves to some of the cash we'd collectively put aside to pay for the electricity bill. It's an inevitability of student life that you'll encounter people partial to the old "five finger discount."
Enter the Wyze Cam v2 , and its bigger, badder sibling, the Wyze Cam Pan. Shove one of these Alexa-enabled bad boys into the corner of your student flat, and you've got a cheap, app-based CCTV system.
Both cameras let you record footage onto a MicroSD card or stream it across the Internet to your phone, so you get the best of both worlds. Wyze also offers a cloud storage service for your video footage, if you're into that sort of thing.
Across both cameras, you'll find features like night recognition, motion detection, and sound detection. The Wyze Cam Pan costs a little more, but it lets you tilt and pan the camera across the room, getting a full 360 degrees of visibility.
The most significant selling point of the Wyze Cam system is how insanely cheap it is. The entry-level Wyze Cam v2 costs just $20 , while the Wyze Cam Pan retails for only $30 . Even on a student's budget, it's not entirely out of the realms of possibility to kit an entire house out with an ad-hoc CCTV system.
Lectrofan Micro
I've got a friend, who, God love her, decided to go back to University at the age of 25. While she's enjoying her course, she's less enamored with the realities of living with a bunch of ketamine-addled 18-year-olds and their nocturnal ways. When you enter your mid-twenties, every moment of sleep is crucial.
Her approach is to listen to podcasts, and let Ira Glass drown out the chaos happening outside her room. Others prefer to depend on white noise, which is where the Lectrofan Micro comes in.
This pint-sized gadget offers ten different white noise settings and is sufficiently loud enough to mask background sounds that would otherwise disturb your sleep. And not content to be labeled as a one-trick-pony, the Lectrofan Micro also lets you play music from your phone via Bluetooth.
Is it the best Bluetooth speaker we've ever used? Not by a long-shot, but it works in a pinch. You can pick one up for under $30 .
Hidrate Spark
I always thought that the idea of a "smart" water bottle was inherently dumb. Internet of Shit material? Maybe. But then I tried one, and now the concept doesn't seem so silly.
When you're chained to a desk churning out wordcount for your dissertation, it's easy to forget your basic human needs: Eating, drinking, and showering. Sometimes, you need a bit of a prod, whether that's a kindly flatmate informing you that you smell like a tramp, or a water bottle glowing to prompt you to take a sip.
Water's useful. On a fundamental level, you need it to live. Not only that, but hydration is essential for concentration, and helps massively with weight loss.
The futuristic-looking Hidrate Spark retails for $45 on Amazon . It plays nice with Fitbit and Apple Health and doesn't require regular charging. Instead, it uses easily found watch batteries.
Your friends may laugh at you, but remember: The best students suffer for their grades.
Huawei Mediapad M5 Pro
The Huawei MediaPad M5 Pro is one of the best Android-powered portable computers I've used this year.
Notice how I said "portable computer" and not "tablet." That's because this is nothing like your little brother's Amazon Fire 7. It's big, fast, and capable of doing actual work — especially when connected to a keyboard.
The 10.8-inch 2K screen is bright and stands perfectly suited to reading papers and watching Netflix alike. It's light enough to throw into a rucksack but boasts a battery big enough to last all day. The build quality is stunning, and the M5 Pro stands tall in a field crowded with ugly fondleslabs.
But the best part is that the M5 Pro comes with a super-responsive pen, called the "M-Pen," which is perfect for doodling and notetaking and is delightfully easy to grip.
Let me reiterate this point though. It comes included. Like, you don't have to buy it separately. It's part of the package. I hope you're paying attention, Apple.
If large 10.8-inch tablets aren't your bag, Huawei also offers a smaller 8.4-inch version, called the MediaPad M5. Although it lacks some of the bells-and-whistles of its big brother, it's definitely worth considering. I find that the smaller form-factor makes it easier to grip, which is ideal if you plan on reading journals and e-books in bed.
A downside is the bog-standard MediaPad M5 lacks the M-Pen. The good news is you can buy this separately — or settle for a third-party pen entirely. We're fans of the Adonit Pro3 Stylus here, which can be found on Amazon for under $30 at the time of writing.
The 8.4-inch MediaPad M5 is available on Amazonom for $320 , and Amazono.uk for £260 . Those wanting to reach for the Pro version can buy it on Amazono.uk for £360 without LTE , or roughly £400 with an LTE modem .
Microsoft Surface Go
But what if you need a real computer? You could do worse than the Surface Pro, which Microsoft released earlier this year, and is a triumphant return to form for Redmond's consumer-focused offerings.
The Microsoft Surface Go is an ultra-portable, and the cheapest computer in the Surface lineup. It's not big, measuring just 10-inches. It's not especially powerful, and its humongous bezels look especially out of place in 2018. But that doesn't matter. It's still one of the best ultra-portables released this year.
I won't sell it to you too hard. My colleague Napier Lopez broke down the subtler points of this fabulous tablet just a few months ago. You should read his review .
I will, however, point out that as a student, your life will be consumed with wandering from lecture hall to seminar to lecture hall. You'll fight for spare plug sockets in the library, which are always a scarce commodity.
Portability and battery life are priorities. The Microsoft Surface Go delivers on both points. The entry-level model costs just $400 . If you want to get the signature keyboard cover, that's a bit extra, costing an added $130 .
Inateck 9-in-1 USB-C Hub
Laptop manufacturers are increasingly stingy with the ports they include with their machines. Whereas it was once commonplace to get an array of USB, video-out, and networking ports, now you're lucky if you get more than a couple of USB-C ports.
If you want to connect a monitor, keyboard, mouse, and some external storage to your machine, odds are good that you're going to have to spend a bit of extra scratch on a USB-C hub. With that in mind, we recommend this effort from Inateck.
We like it. For starters, it supports USB-C Power Delivery so that you can charge your (compatible) laptop through it. It includes both VGA and HDMI ports, so you don't have to worry about not being able to connect your computer to a projector. It's got Ethernet and boasts more USB-A ports than you can shake an overpriced dongle at.
The only downside is that it's a bit chunky. Fashion-conscious punters, therefore, might want to consider Vava's offering, which is sleek and svelte. It packs support for SD and TF cards, along with three USB ports, HDMI-in, and Ethernet.
Inateck's USB-C hub goes for £60 in the UK . As for Vava's effort, that'll set you back $60 on Amazonom and £50 on Amazono.uk .
OneAdaptr Evri 80W USB-C
Headphones. Laptops. Phones. Watches. Tablets. Nowadays, we've got a lot of stuff to charge. One of the best chargers I've used is the OneAdaptr Evri, which does pretty much everything you'd want from a desktop charger.
It's got USB-C Power Delivery, allowing me to charge my Dell XPS 13 laptop without using the cumbersome power brick that came with my computer. It includes 4 USB-A ports and one USB-C port, allowing you to charge all your gadgets at once.
And at the size of an external DVD drive, it's not all that big, and can sit under a desk without taking up too much room. You can find the OneAdaptr Evri on Amazonom for $70. You can also get it from the OneAdaptr website for $75 , where it's available different international versions for non-US plug sockets.
Looking for something more budget-friendly? The Aukey 60W wall charger has USB-C power delivery, along with two conventional USB-A ports, and costs just over $50 at the time of writing . On Amazono.uk, it can be had for £55 .
Eufy Robovac 11s
When you move into your shared house in the second year of university, two things will happen, and they'll take place in this order. First, your habitat will descend into a Stig of the Dump situation. Dishes will sit in the sink unwashed. Pizza boxes will pile up. It'll be grim.
Eventually, one of your housemates will say "fuck it" and create a cleaning rota. In this situation, I urge you, dear reader, to pick vacuuming as your chore of choice. Fight for it, if you have to.
Why? Because vacuuming is the one chore where you can get away with doing precisely nothing. I'm talking about robot vacuum cleaners, which are cheaper than they've ever been.
I've seen robot vacuum cleaners from no-name Chinese manufacturers go for as little as £30 on sale. That said, I'm a firm believer in the adage "you get what you pay for," and would encourage you to pay a little bit extra, especially since you'll be taking it with you in your post-university life.
The Eufy Robovac 11s, from Anker, is probably the best value robot vacuum cleaner on the market. While it lacks the bells and whistles for more expensive and capable cleaners, like the excellent Neato Robotics Botvac D7 , it does a respectable job of cleaning solid, non-carpeted floors.
You can pick the Eufy Robovac 11s on Amazonom for $230 and Amazono.uk for £220 . However, if you can stretch a bit further, we'd recommend the Robovac 30S, which comes with built-in Wi-Fi and voice control support. This retails for $300 in the US .
Nokia Withings Steel HR
Americans call it the "freshman fifteen." British people merely ask: "Who ate all the pies?" An inevitability of an undergraduate's life is rapid, uncontrollable weight gain caused by poor diet and enthusiastic binge drinking.
Eventually, you'll decide to start looking after yourself. When that point comes, you might want to buy a fitness tracker. We'd recommend the Nokia Withings Steel HR.
For starters, it's stylish. It doesn't look like a fitness tracker. It looks like a watch, which means you can confidently wear it to a more formal situation, like a job interview or a graduation ceremony. On top of that, it's got the general fitness and sleep tracking you'd expect from a standard fitness wearable.
You can pick up the Nokia Withings Steel HR on Amazonom for $180 . In the UK, it goes for roughly £150 . If you're looking for a more conventional fitness tracker in the mold of a Fitbit, perhaps consider the recent Huawei Talkband B5, which we reviewed here .
Soylent
On the subject of health, let's talk about diet, which inevitably falls by the wayside during one's university years. I dread to think about how many takeaways I scoffed as a fresher, although I'm still wearing the consequences to this day.
Who ate all the pies? Me, apparently.
Convenience food isn't great for you, but it's convenient. Cheap too. Fortunately, there's now an alternative in the form of Soylent , which earlier this week launched in the UK after several years in the United States.
Soylent is essentially a nutritionally complete meal replacement. It's got all the calories, vitamins, and minerals required to replace the stuff you'd ordinarily eat during a day.
While it's a bit more expensive than cooking yourself, it's far less costly than getting some food while out of your student digs, and is arguably better for you. In the US, you can get a case of 12 pre-prepared drinks for $37 . In the UK, you can grab them on Amazon Prime for £39 .
RHA MA390 Wireless
So, you've got the fitness band and the health food, now you need something to play the banging tunes you'll need to keep you motivated as you shed some timber.
We're big fans of the MA390 Wireless from Scottish audio brand RHA here . These are some of our favorite gym buds, with excellent battery life and a rugged, sweatproof design. Sound reproduction is sharp, with crisp highs and solid bass. Retailing at under $70 , they really can't be beaten for value.
If your budget doesn't stretch that far, consider Skullcandy's Method Wirelesss buds . These won't break your overdraft, yet offer an acceptable listening for when you're in the gym.
Mous Limitless 2.0 Case
When you're a few beers down, your hand-eye coordination inevitably takes a plunge, along with it your brand new iPhone. There's nothing worse than getting a new phone on contract and spending the next 24 months learning to tolerate a cracked screen.
A decent phone case is essential, and at TNW, we're big fans of Mous's rugged (yet totally discreet) line of iPhone and Samsung Galaxy cases.
Unlike some ultra-protective cases (the best example being the Otterbox Defender), the Mous Limitless 2.0 case doesn't take up much space. It's got less meat than an Iceland ready meal, and sits unobtrusively in your pocket. Despite that, it can survive being roughly tossed around, like a passenger on a United Airlines flight.
Not an iPhone user? No problem. We'd also recommend the ultra-grippy Tech21 EvoCheck , which is available for a broader selection of phones, including ones from LG and Google.
Kopack Backpack
If money were no object, I'd simply write "buy anything from Wenger" under this paragraph. I'm ridiculously fond of their backpacks. I've had one for over ten years, and it's taken more of a beating than Mickey Rooney's face, but it's still standing strong.
But money is an object, and as a student, you're probably more hard-up than most. With that in mind, maybe consider this offering from slightly obscure brand Kopack.
I've been using this bag on-and-off for a few months now. It's big enough to hold a laptop and all the assorted accouterments, but small enough to go under the seat when flying. It's comfortable to carry, and has handy extras like a built-in charging cable. It's also got extra cushioning on the bottom of the bag, meaning that when you drop it, you don't accidentally smash your expensive laptop.
You can grab the Kopack backpack on Amazono.uk for £38 . In the US, it goes for $46 .
As an alternative, I'd also recommend this bag from Inateck , which retails at £38 in the UK and $47 in the US . It's bigger, and can carry several laptops, as well as your all-essential textbooks. It's comfortable, and you can zip it down all the way to the bottom, allowing you to monopolize every cubic centimeter of available space. I like it a lot, and it's replaced my roll-on suitcase for short journeys.
Conclusion
From bags to chargers, laptops to Soylent, we've covered a lot in this gift guide. If you're still in the mood for some back-to-school tech, you might want to read my colleague Callum Booth's suggestions of what to get your teacher .
Think we missed anything? Any essential tech you're taking to uni? Let us know in the comments below.